Sun'n Fun 2023  (4/8/2023)
The weather couldn't have been better for the event this year with beautiful skies, comfortable temperatures, low humidity and a breeze to keep everyone cool.  We had a steady stream of our Fraternity members checking in with us at the Clubhouse and of course taking advantage of our daily lunch deal offered by the Florida Gulf Coast Chapter of Silver Wings Fraternity.  The two evening shows were reported to be most entertaining events, but of course nothing much beats the Navy Blue Angels for crowd pleasers.  Maybe next year the USAF Thunderbirds will have the chance to answer that challenge!
New Members at Sun'n Fun  (4/8/2023)
It is gratifying to see our long-time members who travel to Lakeland each spring for the Sun'n Fun event.  It is also gratifying to sign up a host of new members to our Fraternity.  This year, in addition to the well experienced aviators who have joined our Fraternity we also got some younger members to include Serena and Jakob Brouillette attending from Daleville, AL.  They seemed to find our centrally located Clubhouse, with an abundance of Shade, a good lunch offered, and friendly conversation on the front porch a comfortable place to relax and enjoy the show.  We welcome them as we do all our new members this year and hope to see you next year.
Scholarship Recipients  (4/26/2023)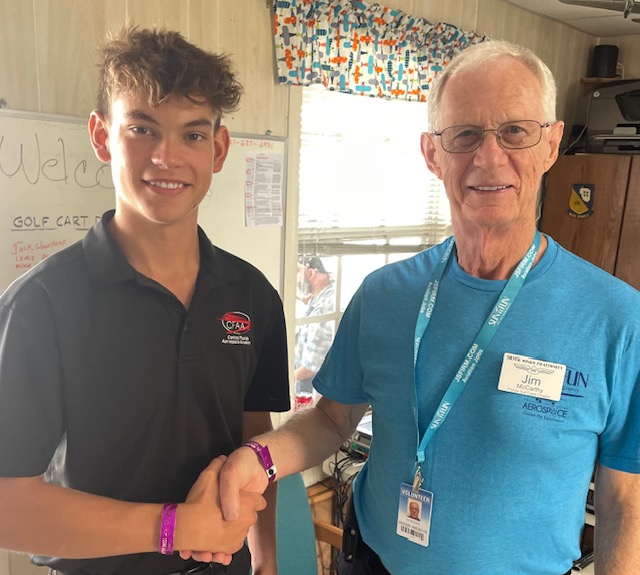 One of the two recipients of an Aviation Scholarship Award this year is Andrew Rodriguez being congratulated by SWF member Jim McCarthy. He is a Senior at Kathleen High School where he is in the upper 7% of his graduating class.  He is a Student Pilot and will be using this award to help him continue his objective of earning his Pilot Certificate and pursuing a career in Aviation.
The second scholarship awarded was to ______________
A scholarship award recipient from last year, Reagan Hooper, was seen examining some "heavy iron" on the Sun'n Fun flightline.  She traveled to Sun'n Fun this year by Cessna Cardinal and camped under the wing.  Great fun when you are young!
As of 4/26/2023